Wall collage & performance
"The Day of the Corrupt" took place on September 12 at
El CHA Performing Arts Center
in Trujillo Alto, Puerto Rico. El CHA was a punk hub located in the outskirts of San Juan. In a period of five hours I covered, damaged and painted over graffiti work (originally done by Juni Figueroa as well as others) decorating the walls of El CHA. Over those erasures I added (with acrylic paint and collages ) the names of corrupt personalities, art dealers, a few fake personalities, and politicians:
Jorge de Castro Font, Miyuca, Rovira Crakers, Berezdivin Trienal, Adlín Rios, Hilda Torros, Otto, Larry Craig, Arturo Madero, Soutto, Ratt, Torrente, Senators, Milosevich, Shoeless Joe Jackson and Malaso
among others.
At the end of the exhibit a bunch of my collages (valued at $400 ) were sold at 20 bucks each and all the money was donated to EL CHA. Sadly, a few days later El CHA was shut down. The exhibition also included a soundtrack by
José "Popu" Roman
.
*CHA stands for : Center for the Horrible Arts
Cesar Reyes
Ratt (Homage to Robin Crosby, guitar player and founder of Glam Metal band Ratt, who died of AIDS forgotten by his band.
Hilda Torros of Universidad del Sagrado Corazón.
detail (Torrente)
Staged wall drawing with red boombox
(Miyuca La Muda and her cohorts)
Berezdivin and vomit
(over a graffiti by Radamés Juni Figueroa)
detail (Rovira Crakers)
Miyuca
detail of RATT mural

detail of Miyuca La Muda and Her Cohorts
Vélez at work
James Baker
drawing on top of menu/rules board of El CHA
detail (Otto Reyes, Miyuca, Adlín Ríos Rigau)
Beata Bratriz Mixta
(ink and acrylic on a San Juan Trienal poster)

Beer Young and the Catholic University

the Corrupted

Cuba's



Senators

Krane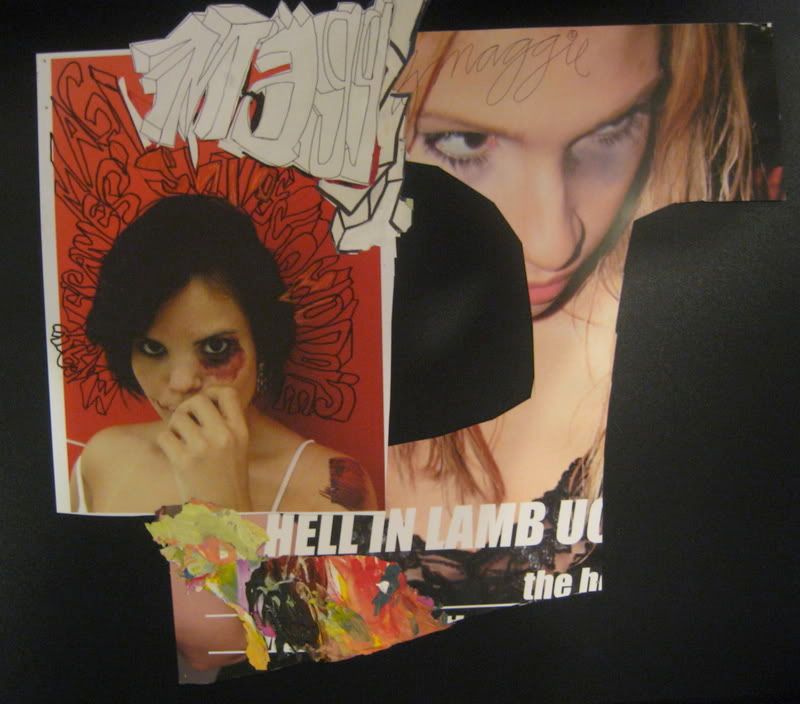 Maggie's Hell in LAMB UC


Political Shipwreck
***********************************************************************************************
Related news for corrupted Senator Jorge de Castro Font and his ties to collector Alberto de la Cruz:
From Caribbean Bussiness
Who's who in De Castro Font case
By CB Online Staff

Rumors began circulating late Friday and early Saturday as to the identities of the 12 persons who alleged they were victims of extortion by former Senate Majority leader Jorge De Castro Font, who was charged earlier this week in federal court with 32 counts of alleged fraud and extortion, among other charges.



One of the 12, Atty. Guillermo Zuñiga already declared himself guilty of paying De Castro Font $5,000 a month for a total of $120,000 from July 2006 to July 2008 on behalf of several clients. He maintained when declaring himself guilty that when he attempted to stop the payments he was threatened.

Other well-known businesspeople who allegedly were paying off the senator in return for favors include American Parking owners Miguel and Rolando Cabral who allegedly paid De Castro Font $40,000 over an 18-month period and hosted him in their native Dominican Republic, flying him there on their private plane.

Also allegedly named in the indictment as "Person No. 1" is Alberto de la Cruz who, according to the accusation, allegedly paid some $165,000 to the senator through his advertising agency Sajo & García to allegedly keep a certain bill from not being passed. De la Cruz, distributor of Coca Cola and Medalla beer among other products, appeared to have been successful and the bill was never passed.

Others on the list include developer Joel Katz who allegedly paid the senator $132,000 over a five-year period regarding legislation for his Costa Sirena development in Loiza and Carlos Declet, owner of Santurce Gas, who allegedly indicated he paid some $10,000 to kill a specific House bill. He maintains in the indictment papers that he was asked for $35,000.

Atty. Alfredo Escalera, who represents several associations,allegedly kicked in $4,500 for a meeting with De Castro Font to talk about legislation affecting his clients although he had allegedly been asked to pay $10,000 for the meeting.

El Jibarito owner Jorge Mayendía allegedly paid the senator $5,000 a month from 1996 to May 2008 at which time he needed, according to the indictment, to have the text of a bill modified to sell a water bottling company he owned to non-local investors.

ACODESE's Betsy Barbosa, owner of an insurance company for the past eight years, allegedly paid De Castro Font $83,300 through Sajo & García and the company of also-accused conspirator Alberto Goachet, head of the press office for former Gov. Pedro Rosselló. Also alleged to be paying monies, said to be around $30,000 to De Castro Font's agencies, was Ramón Macrón, vice president of a company called Urban Designs.