This is not a comprehensive web site of my work. All images copyright of Pedro Vélez.
Web -based narratives and curated exhibitions
Blog Archive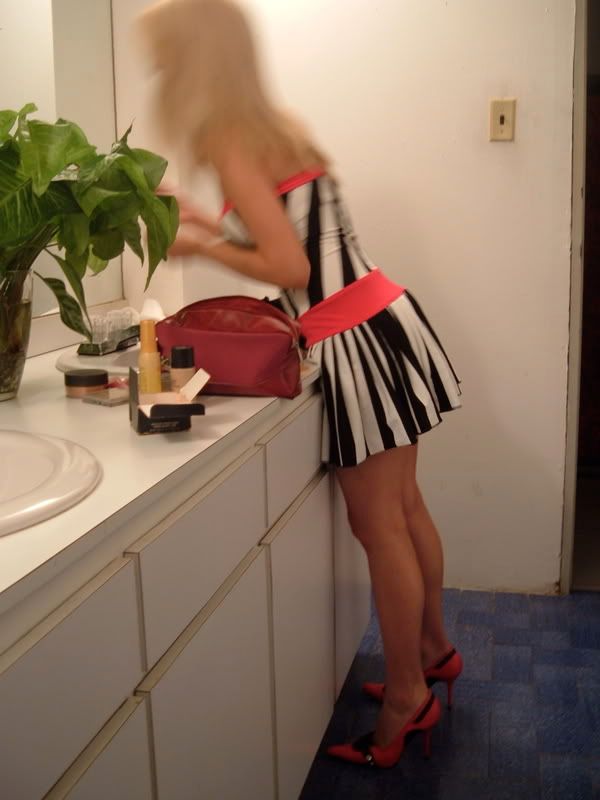 Dakis Joannou and the Yacht that Conquers, curated by Pedro Velez
poster and photographic banner triptych 
Unfinished Jewish Sculpture
shaped billboard found at Spertus Museum. Alterations made in styrofoam and acrylic
red swirls by Nina Luis
Sports and Hope curated by Pedro Velez
(secret piece available only to employees of TBA)
Decoration and "curation" of TBA's fridge. Includes an e-mail from friend Kasarian Dane detailing the news that he and his wife are expecting a child, and a newspaper clipping celebrating the Chicago Bears miraculous inclusion playoffs.
Many of the unwilling collaborators included on my fake shows and invitation to the exhibition are present on this fridge--including Alix Lambert and Jasmine Bleeth.
Wall Collage over Art Chicago, curated by Pedro Velez
graphite, white paint and ink variations over three walls and the Art Chicago/San Francisco logotypes.
Heavy Metal Mix Tapes, curated by Pedro Velez
close to 300 mix tapes, selected from an open call to submit a mix to the exhibition, were distributed free of charge to visitors.
flyer for Heavy Metal Mix Tape (edition of 3)
"Only Death is Real," mix tape by Alex Drake
Pedro Velez's Cute Girls
Pamela Jo Buchwald in NYC by Maria Alos, curated by Pedro Velez
Emmi Mathis in a bathtub full of bubbles by Melissa Shubeck, curated by Pedro Velez
Kristen "Teen Beat" Van Deventer by Lisa Williamsom, curated by Pedro Velez
ex-girlfriend Jenn Ramsey in North Carolina, curated by Pedro Velez
Jennifer Schmidt in Boston by Stefano Pasquini, curated by Pedro Velez
Edra Soto in Chicago by Mara Ayala, curated by Pedro Velez
Sara Hicks at the beach by Yuki Kokubo, curated by Pedro Velez
Keri Butler's neck by Rebekah Levine, curated by Pedro Velez
The Program
is
Briezy, curated by Pedro Velez
For this exhibition the original version of
The Program

(2001),
was re-edited by
Rebekah Ruthkoff
under the title of
Briezy.
Artist included in Rutkoff's version:
Forcefield, Vicente Razo, Gayil Nails, Ximena Cuevas
The Program
(2001)
interview about the fake shows by Gean Moreno in Arte al Día (2003)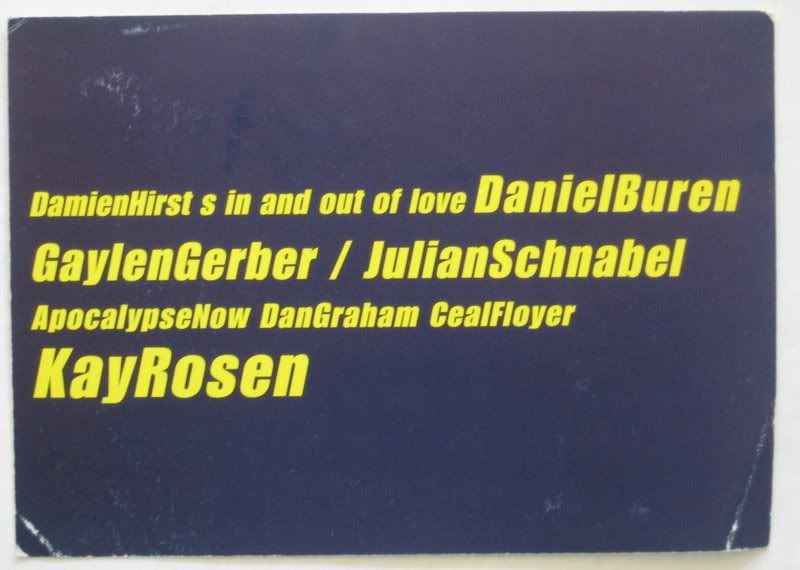 postcard and collaged construction paper, acrylic, screw and styrofoam
invitation (after Exile on Main Street by the Rolling Stones)
Unfinished Yellow Sculpture
styrofoam, acrylic, wood, masonite
"Postcard 1999/Apocalypse Now"
1999 /limited edition of 3,000 distributed freely in 1999
with the support of John T. Belk

Frieze review by Michele Grabner
If material things seem to have taken on an almost religious significance in our consumer economy, art has remained a successfully secular and objective enterprise, continuing to offer itself up as a critical, systematic activity that traffics in cultural inquiry. Superstition, magic, or priestcraft are rarely considered, despite the fact that many artists engage in a kind of conjuring and divining of material.


Jessica Hutchins and Pedro Velez are by no means into consulting oracles or interceding with the gods, but their sculptural objects suggest a curiosity in something unnatural and spirited. Hutchins' old T-shirt, collaged with stars cut from the newspaper, and Velez' construction paper sandwiched together with oozing orange acrylic paint could be legitimately redeemed in a contemporary art context as a poor-man's Jessica Stockholder or a clumsy Tony Feher. But more compelling and unusual is Hutchins and Velez' naive attempt to attach a quasi-sacred belief system to their ephemera in order to justify and redeem their own overarching seduction by materiality and worldly success. Their simple sculptural forms pry open the secularised conceptual framework of art production in the hope of glimpsing an epistemological precept greater than the intellectual mandates of art schools and the privilege of the market place.
This search for divinity in material things starts with their approach to making art which reveals little formal etiquette or proclivity to balance or harmony. Yet the objects' awkwardness refuses to be sympathetic to discord or tolerant of ambiguity. Every piece in the show was mysteriously iconic, even slightly folksy, but ultimately a refreshing shift from the closed methodical systems characteristic of much contemporary art.

Hutchins combines papier mâché, thin gauge wire, staples, sheets of ruled paper, and colouring book pages to make a large, sloppy floor mat. Like a surface peeled from Kurt Schwitter's Merzbau, Untitled (2000) is a buckling flat mass too cumbersome for the gallery space. It imposes its crudeness on the other equally crude sculptures in the space and the loops of wire protruding from its surface literally trip visitors up. Lacking the elegance of a flying carpet or the grounding of a prayer mat, Hutchins' floor piece locates itself somewhere between a religious accoutrement and a disposable lining for a rodent cage, between the sacred and the blasphemous, between art and junk.

Butterfly (2000) is another of Hutchins' floor sculptures that is so shoddily made that belief in the uncanny is the only way one can legitimise its coming into being. Again, as a rudimentary form - an open cube - it can't escape its art precursors, but its unskilled construction animates it with a possessed presence. A dangling paper butterfly neither decorated it nor lent its meaning a rational narrative.
Velez' Postcard (2000) hits a metaphysical mark without over dependence on animated material. Commercially printed, these blue and yellow postcards, casually stuck to the gallery wall, sport a smartly designed list of contemporary artists such as Daniel Buren, Gaylen Gerber, Julian Schnabel, Ceal Floyer, and Kay Rosen. A stack of the same cards next to the gallery's sign-in book was inscribed with the words 'Curated by Pedro Velez'. This fictional exhibition announcement is as much wish fulfilment as it is a piece of critical commentary in which Velez takes a swipe at an inadequate local art apparatus while acknowledging his admiration for certain artists. Perhaps if he holds the card close to his heart and makes a wish the show will come true. Maybe even in the mid-West. All it takes is a little faith.
First published in
Issue 55, November-December 2000